– the world's leading optimization platform for airport operators
Take decisions with confidence and clarity and transform the passenger experience. There is a Better place. 
Better Airport® - the world's leading optimization platform for airport operators
Imagine one tool that connects operations, analysis and planning. And then helps you get better at everything. This is Better Airport – the world's leading optimization platform for airport operators.
At its core, Better Airport is a cloud-based, (SaaS) platform that gives airports of all sizes a simpler, easier, and more efficient way to run core operations including check-in, baggage, security, stand & gate, and immigration. Where once those operations were conducted in silos, Better Airport connects them and let's your data flow – spanning from strategic guidance to real-time operation.
How airports globally have used Better Airport to optimize operations
BER Express
Virtual Queuing introduced in Europe. Learn how Berlin Brandenburg Airport took the lead on VQ in only two weeks.
Seattle Spot Saver
Introducing Virtual Queuing in the US - for greater airport efficiency and higher passenger satisfaction.


Calgary int. airport
Flight Schedule Management & Seasonal Planning: How efficient workflows enables Calgary to evaluate slot requests in less time.
Changi airport group
Taking Better Border to the next level with Changi Airport Group: Optimization of counter plans according to live queue numbers.
Virtual Queuing - where you're in control of the passenger arrival curve
With Virtual Queuing, passengers book times at check-in, security, and passport control, significantly reducing physical queuing and helping you stay on top of demand.
Airport Operations Consultancy
As well as developing the world's leading airport operations SaaS platform, we provide bespoke consultancy services to many of the world's leading airports.
Plan with clarity and confidence while optimizing your daily operations.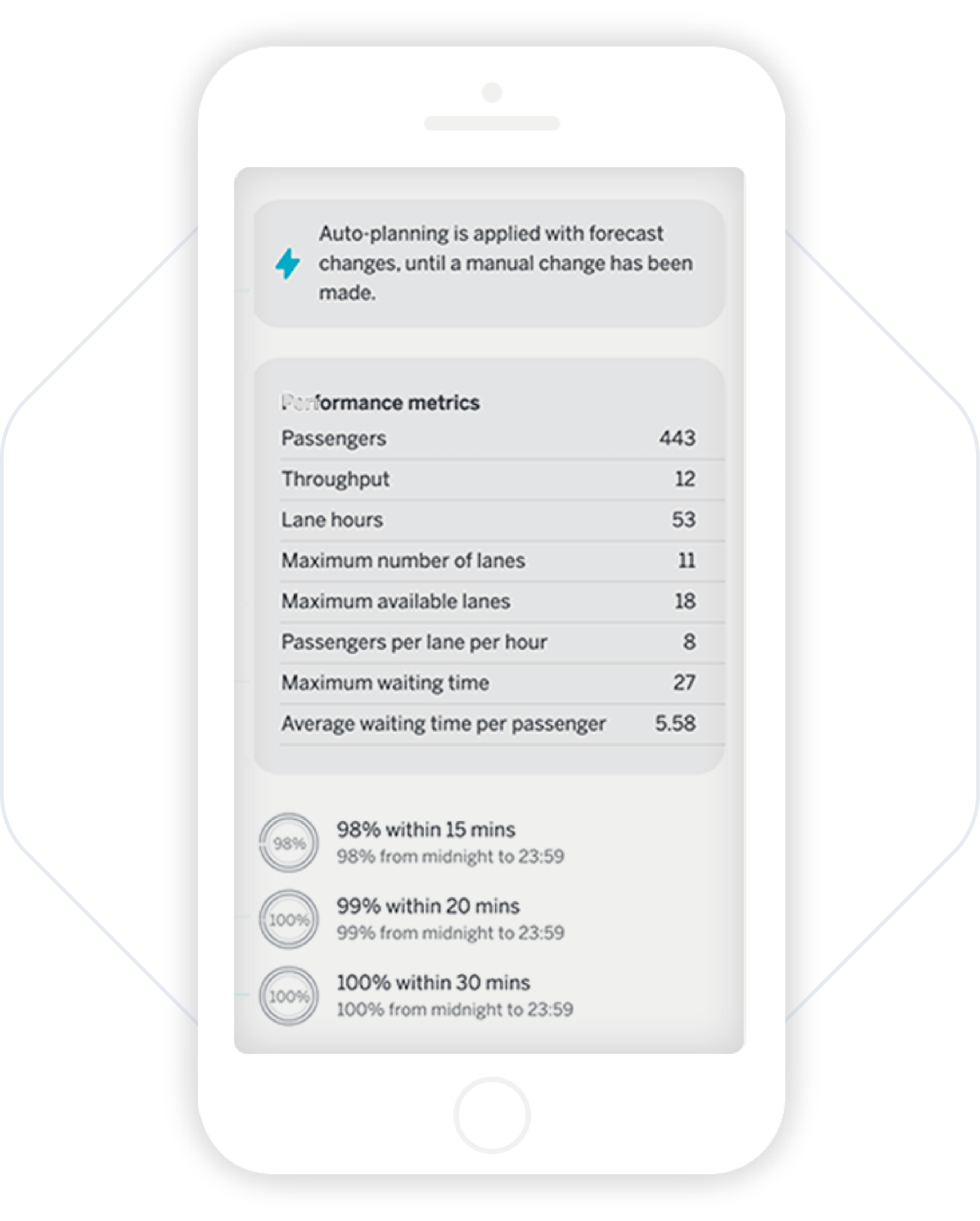 Connected Operations: Connect every process - from curb to gate
Precisely predict your passenger and baggage flows with machine learning.
Use data to plan with confidence and clarity.
Optimize your operations in real-time on a common operating platform.
Learn more about how our software solution can improve your airport operations
We know that investing in and implementing a new software solution can result in a lot of questions. We will happily help you through the process and answer all your questions about our software solutions and how we can help you improve your airport operations management. Therefore, do not hesitate to contact us. Call us or send your enquiry via the link below. We look forward to hearing from you.